Dont forget you can win a copy of the two released Healer Series books Touch Of Power and Scent Of Magic HERE



Maria V. Snyder is an American fantasy author best known for her Study Series of books. Her first
ovel, Poison Study was published October 2005, and won the 2006 Compton Crook Award for Best First Novel.

Thank you for finding time for this interview, How are you?
Thank you for inviting me onto your blog! I'm doing well and keeping busy with writing and my family.
What are you working on at the moment?
I'm working on Book 3 of my Healer series, Taste of Death. I have about 80% of the first draft done, but like all my books, it'll need some revisions before it's ready for my readers.



Is Belen going to be okay?

Well, I don't want to spoil anything for my readers ;)
How many books will be in the healer series?
Three.
How different was the writing process of The Healer Series and The Study series?
My writing process is pretty much the same for all my books. What's different is the research. For the Healer series, my research focused on medical and healing information as well as guerrilla and biological warfare. I also had to be careful I didn't repeat any of the problems/solutions that I've done in my other books and series – trying to come up with unique plot twists and characters gets harder the more books I write!
So many amazing Novels are being made in to Movies or TV shows these days, which one of your books would you like to see on the big screen most?
I think Inside Out would translate to the big screen the best. It has all the elements, action, mystery, romance and a cool setting to make a good movie. Plus it would be cheaper to produce because everything happens inside that big metal cube J Poison Study would be better for a TV series since it has a more complex plot and setting.
I read somewhere that you used to be a Meteorologist, are there any similarities in the two careers?
Yes. Both take years to master and both have to follow the laws. The weather follows the laws of physics and nature and writing the laws of fiction. I presented about how storms and magic are very similar at the Library of Congress and wrote a blog...can't find a link – sorry! Another similarity is both have to follow logic – even if I create the world and the magic in the world, they must stay consistent and make sense within my world – just like the weather.
Do you have a favorite book?
Of mine? I'd have to say Poison Study because it's my first book so it has a special place in my heart. But Spy Glass is another favorite as it was the most difficult to write and I'm proud of how it turned out. And Inside Out was a fun book to write and I loved Sheepy and the twists at the end! Okay, I could go on – there are aspects of all my books that I'm proud of J If you're asking about another author's book – that's harder to answer as I've many favorites. Here are a few: Soulless, by Gail Carriger, Ender's Game, Orson Scott Card, The Gate to Women's Country, by Sheri S. Tepper, Rot and Ruin, by Jonathan Maberry.
Out of all your characters who is your favorite?
Janco from the Study/Glass books. He's just fun to write and I love how he views life.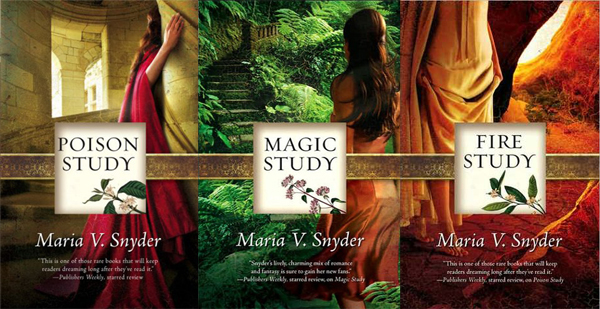 What do you do when you are not writing?
I've two teenagers, so I'm often running them to their activities or watching their games – they both play volleyball and soccer. When I do have time, I also enjoy playing volleyball (it's a family sport), taking photos, making jewelry and reading, of course J
Do you have any advice for up and coming Authors?
Yes, lots! Persistence and patience are important for all writers. Learn the craft of writing as well as the business of writing and attend writer's conferences and classes if you can. Consider that time an apprenticeship. Be wary of predators, if someone is asking you for money proceed with the utmost caution. Get feedback on your stories from fellow writers before submitting. Joining a critique group is very helpful. I also find that if I let a story sit on my desk for a few weeks I can pick out all the problems, typos and inconsistencies easier. And I agree whole heartily with Stephen King's advice in his book, On Writing. He wrote, "If you want to be a writer, you must do two things above all others: read a lot and write a lot." And don't give up! Ever!
I also have more writing/publishing advice on my website if you're interested. Here's the link:
http://www.MariaVSnyder.com/advice.php
Thanks for your time Maria
You're welcome! If your readers would like more info about me and my books, I have the first chapter of all my books on my website as well as a number of free short stories they can read (including stories with Yelena, Valek, Ari and Janco). Here's the link:
http://www.mariavsnyder.com
And my blog is:
http://officialmariavsnyder.blogspot.com